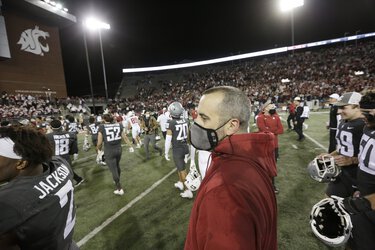 Nick Rolovich came to Washington State as a fun-loving coach, known nationally for his off-the-wall antics and an ability to win.
After less than two years and only 11 games, Rolovich has been fired, and will be known nationally as one of the highest-profile terminations for refusing to get a COVID-19 vaccine.
Washington State athletic director Pat Chun said WSU had "initiated the separation process" with Rolovich and four of his assistant coaches for not complying with the state mandate that all state employees be fully vaccinated by Monday.
Defensive coordinator Jake Dickert has been named acting head coach.
"This is a disheartening day to be here today," Chun said in a Monday evening news conference. "Our football team is hurting, our WSU community is fractured, and today will have a lasting impact on the young men on our team and the remaining coaches on the staff.
"As the director of athletics and the steward of this department, I take full responsibility for hiring Nick. … We believed we had found the perfect fit and a long-term solution for Washington State football. Unfortunately, we stand here today making a transition."
Defensive tackles coach Ricky Logo, cornerbacks coach John Richardson, quarterbacks coach Craig Stutzmann and offensive line coach Mark Weber are also being let go.
"To be at this juncture today is unacceptable on so many levels," Chun said.
Rolovich will not receive the remaining $3.6 million buyout of his contract.
He had applied for a religious exemption to the mandate requiring all state employees to be vaccinated by Oct. 18. To remain as coach, Rolovich needed approval for his exemption request and for his supervisor, Chun, to determine that he could effectively do his job while keeping the public safe.
"For the employees that we received notification [on] today, it was really simple and their accommodation requests were denied," Chun said.
The Cougars were 5-6 during Rolovich's 1½ seasons as WSU's coach.
But Rolovich's tenure has been marked more by his polarizing stance on the vaccines than what happened on the field. His view was in stark contrast to the one held by his bosses, WSU President Kirk Schulz and Chun, who adhere to the science that the vaccines are a safe and effective way to prevent COVID-19 as well as greatly reduce the risk of severe illness.
Gov. Jay Inslee announced Thursday that more than 90% of Washington state government workers have been verified as fully vaccinated. Rolovich, the state's highest-paid employee at $3.2 million a year, had the highest profile among the other 10%, who were at risk of losing their jobs by not following the mandate.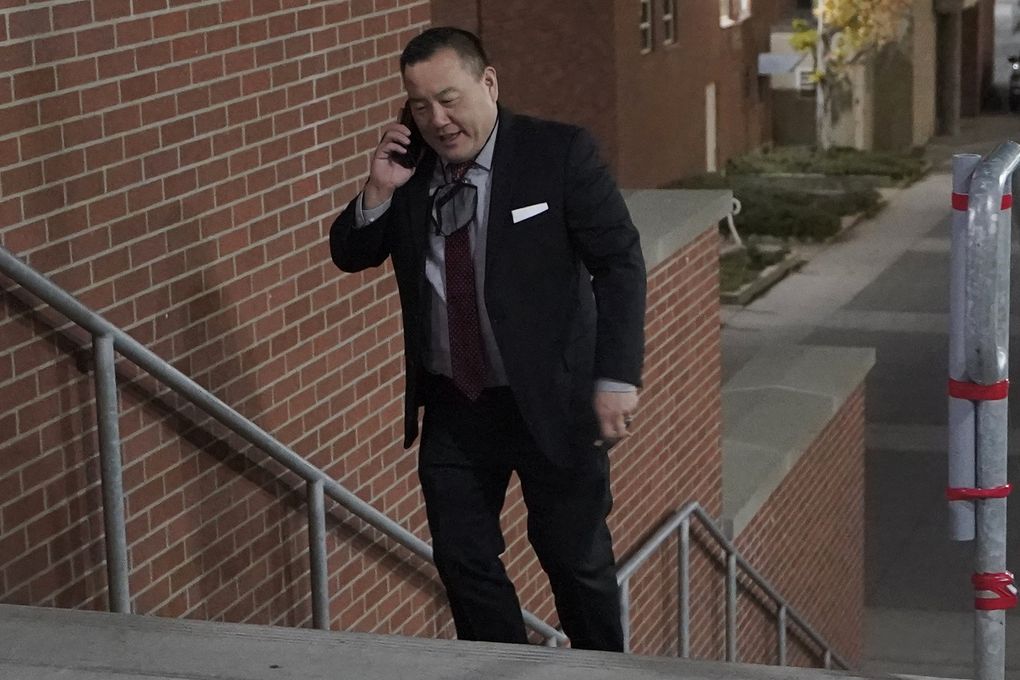 Chun would not comment on the financial details of the separations, but said that Rolovich was fired "for cause."
Rolovich's contract lays out specific reasons for termination for cause, including "conduct of employee seriously prejudicial to the best interests of the University or its athletic program."
Because he was fired for cause, not only will Rolovich not receive the remaining buyout of his contract but he will lose other fringe benefits including a university-donated vehicle and a membership to the Palouse Ridge Country Club.
According to his contract, Rolovich has 15 days to submit an appeal to Schulz, in which case Schulz would have 30 days to review and decide on the appeal.
Despite the drama surrounding Rolovich's job status, the team has been rolling. Washington State won its third consecutive game Saturday — each time as an underdog — with a dramatic 34-31 win over Stanford in which the Cougars scored the go-ahead touchdown with just over a minute left.
The Washington State players gave their coach a Gatorade shower in celebration, obviously aware that it might be his final game at Washington State.
"It means a lot having a coach that, first of all, is a players' coach and truly understands us," slotback Travell Harris told reporters after the game. "He's an outstanding coach. He's a coach we all love to play for."
Chun met with the team Monday night, and he said the "response was what you would expect from college-aged young people who just lost their head coach and a bunch of position coaches as well."